The UC Davis Conference Center is in the southeast corner of campus.  It is east of the Vanderhoef Quad from the Mondavi Performing Arts Center at the corner of Old Davis Road and Alumni Lane. It is adjacent to the Welcome Center and the entrance is to the left of the glass corner of the building.
By train:
Traveling by Amtrak? Your final stop will be in Davis (DAV). Purchase your ticket here for $30.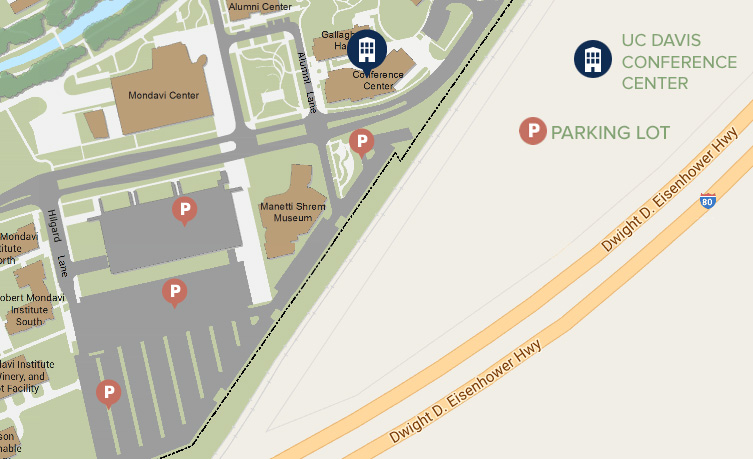 By car:
Traveling by car?  Review driving directions or Link to Google Maps Directions.
Parking:
Parking permits will not be provided.  You must purchase a parking permit and display it on your vehicle's dash.*
Please feel free to park in the South Entry Parking Structure, Lot VP 1 or Lot VP 2.  Parking costs $9 per day, Monday through Friday.  Permits may be purchased from the dispensers in the parking lots.  Permit dispensers accept Visa and Mastercard only (they do not accept cash), except for a few coin operated metered spots ($.25 for ten minutes).  Weekday enforcement hours are 7 a.m.–10 p.m, Monday–Friday.
Link to Google Maps Directions
*Parking costs, as well as other travel costs, are reimbursable for district staff through an EPA grant disbursed through CAPCOA.